Your home is your place of security. Beyond everything else, the security of your home comes first. That is why a home security system simply makes sense. Certainly, maintaining your home so that it is sound and comfortable are the things most of us think about first, but the general security of the home needs to figure into this type of planning. 
A home security system allows you peace of mind. With a sound home security system, you will know that the sanctity of your home is protected at all times. Whether you are home or away, a good home security system ensures that you and yours are the only people who gain entry to your home. 
What is more, in the event of an emergency or if someone attempts to gain entry to your home, a good home security system alerts all the authorities before anything can happen. With the right home security system, the fire department or the police know what is happening as soon as you do. 
This guide will explain the importance of a home security system. We will help you evaluate your needs and weigh your options. Also, we will introduce you to the best home security system in South Florida. 
What is a home security system?
This may appear obvious, but few people realize just how much is involved in a home security system these days. We are a long way from simply burglar alarms. Many of the old-fashioned systems did not offer any help until after something happens and the damage is done. Modern home security systems are designed to prevent issues and to alert you and proper authorities the instant something occurs. 
Home security systems still begin with alarms and sensors that detect breaks and fires. But the modern systems go well beyond this. Some security alarm features of a modern home will include: 
Entryway sensors
These are often considered the core of a home security system. Entryway sensors are attached to doorways and windows to detect any breach of the entryway. Entryway sensors set off an alarm and they can be made to alert police and other emergency services. 
Motion sensors
Placed strategically around the home, motion sensors will detect any movement in the home when no one is supposed to be there. These add a layer of protection should anyone gain entry. 
Using laser/light detectors, motion sensors register movement in a room and will trigger an alarm as well as alert emergency services like the police. Some of the more advanced motion sensor systems will also utilize infrared technology to detect body heat. There are even more advanced systems that utilize facial recognition technology. 
Security cameras
These are another part of the core system that has been in use for a long time. Security cameras are generally mounted inside and outside the house to maintain constant watch and safety. Some cameras record constantly and will notify you when there is activity. The mere presence of security cameras is often enough to deter some criminals. Modern security cameras provide HD images and mobile access with a smartphone. 
Video doorbells
These are recent features and have grown in popularity in recent years. Video doorbells as a great line of defense against package thieves, the so-called "porch pirates" that have made news in recent years. Video doorbells are easy to use. They work just like a regular doorbell. 
Automation controls
Perhaps one of the best innovations in home security systems that have come with the rise of smartphones and other smart technology is the home and remote access controls. Many home security systems allow you to control the system from any location and monitor the system remotely. This makes it easier for homeowners to dial in the system in ways that work best for them, and it allows homeowners to monitor their home security system from almost any location. 
These are just a few of the key features of a modern home security system. Once you meet with a professional and talk about your specific needs, there is a world of other possibilities available. 
Importance of a home security system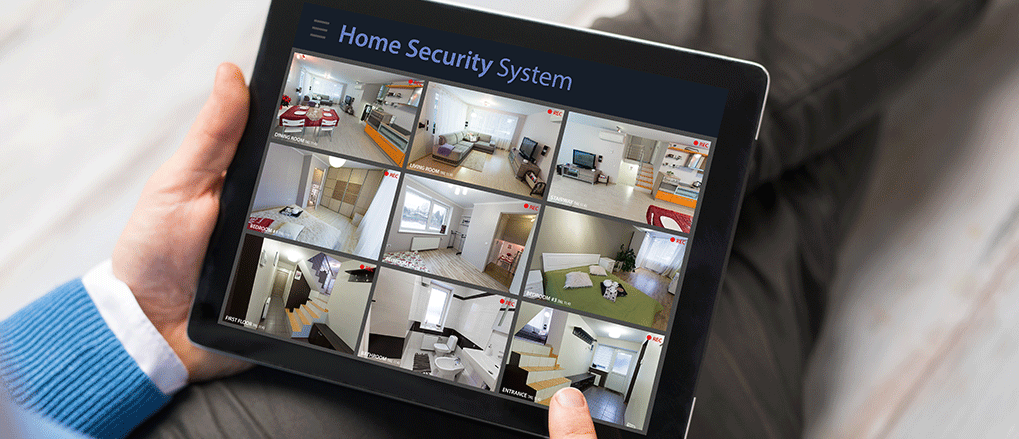 Your home is your most important asset and your most precious space. You need to protect your home in the best way possible for all kinds of reasons. Financial reasons are important, but the safety of your and your family is the most important reason to protect our home with a home security system. 
Protection
A home security system protects you, your loved ones, and your property from fire, burglary, intrusion, and environmental disasters. Professional monitoring lets you know something is wrong before it becomes a problem. Keep in mind that the average burglary costs a homeowner $2400 per victim. This is just the monetary expense. The cost to your sense of peace and safety can be immeasurable. 
Deterrence
Most often, signs of a security system like video monitors and signs that state that a home is protected is enough to deter most criminals. Burglars and vandals most often choose a victim on impulse and signs of resistance are enough to drive them away. 
A sense of peace is something that cannot be measured. No amount of money will give you back the feeling of being violated once it happens. A home security system gives you peace of mind that your home is safe and everything in your home is safe. Most importantly, a home security system lets you know that the people closest to you are safe from intruders.  
You may also benefit from reduced insurance premiums with a good home security system. Many insurance companies provide incentives to homeowners who have security systems. Some insurance companies will reduce your premiums by as much as 20 percent simply by providing video surveillance, fire protection, and security against home intruders.  
Best home security systems in South Florida
If you are serious about home security, you certainly owe it to yourself to do some research. But the best home security systems in South Florida are at Circle Security Solutions. We offer old-school service and values and the latest technology to protect you, your family, or your business. 
Circle Security Solutions installs and services state-of-the-art systems that are easy to use, secure, and reliable. At Circle Security Systems we provide security and fire alarm systems, 24/7 central monitoring, HD surveillance cameras, and HD video cameras. We offer home control systems and automated systems. 
The full range of modern security systems is available from Circle Security Solutions with reliable and knowledgeable service professionals. You will always speak to a person when you contact us. For your home or business, the best home security systems in South Florida are at Circle Security Solutions. 
We proudly serve Miami Dade, Broward, and Palm Beach County, including Miami, Miami Beach, Hialeah, North Miami, Coral Gables, Doral, Miramar, Opa Locka, Miami Gardens, Kendall, Cutler Bay, Palmetto Bay, Homestead, University Park, Palmetto Estates, Country Walk, Tamiami, Little Havana, Miami Heights, Hollywood, Fort Lauderdale, Sunrise, North Miami, Boca Raton, Delray Beach, Boynton Beach, Deerfield Beach, Parkland, Coconut Creek, Pompano Beach, Fort Lauderdale, and the surrounding areas.
What to look for when buying a home security camera system?
A home security system is worth nothing if no one is monitoring it. This is one major reason you should consider the professional systems from Circle Security Solutions. Self-monitoring is great, and you need to pay attention to your security system. But there is no replacement for professional central monitoring.   
Consider what you will do if you get a security alert while you are far from home. Yes, it is important to have remote monitoring, but it is perhaps more important to have a system that is in contact with fire and emergency services where your home or business is located. 
Other things to look for are types of equipment and the ease of use. Central to any home security system is your ability to use it. A central hub or base station is at the heart of your home security system. Part of your research should be on the types of systems used to control your home security system. 
Key things to look for include: 
Battery backup so the system will work if the power goes down.

A cellular radio to communicate with the monitoring center so you're not dependent on Wi-Fi, which won't work without power.

A wide selection of communication protocols built-in (such as Zigbee, Z-Wave, Bluetooth, and Wi-Fi) so you can expand your system should you want to move further into home automation
You will want to understand what comes in a basic set-up for this type of hub and what you need to pay extra for to make sure the system meets your needs. Other key features to evaluate include, fire and smoke alarms, carbon monoxide detectors, leak protection, and camera equipment. 
Are home security systems worth it?
As we mentioned above, the average burglary costs a homeowner $2400 per victim. For a family of four that is $9600. This is just the monetary cost. The cost to your peace and sense of security is immeasurable. 
You should check with your insurance provider to see what kind of incentives they offer when you install a home security system. Many insurance companies provide breaks up to as much as 20 percent when you have a good home security system. 
Permits required for home security systems
You can install your home security system without a permit. However, many states require you to have a permit to operate your home security system remotely. This effectively means you need a permit. 
Some local jurisdictions make a distinction between different types of security systems. For example, some localities require a permit for police and fire alarms. Check with your local municipalities for local laws regarding permits and home security systems. Our professionals at Circle Security Solutions can help with these kinds of things in South Florida. 
Circle Security Solutions Product Showcase 
Circle Security Solutions a fully licensed and insured Miami security system company, we have the experience and know-how to provide you with the best service there is. Don't be fooled by the TV camera professionals or the cable companies that are now security experts! Whether you're looking for a burglar alarm or a home automation system, our team has the knowledge required to get your home or business the best security solution.
If you are looking for old-school service and values & the very latest technology to protect you, your family or your business then look no further. We proudly install & service reliable, state-of-the-art, easy-to-operate, secure, and informative security & fire alarm systems, 24/7 central station monitoring, HD video surveillance cameras & HD digital video recorders, and home control & automation systems for your South Florida home or business. With locations in Miami and Boca Raton, we proudly and regularly service Palm Beach County, Broward County, and Miami-Dade Counties.
Conclusion
Of course, none of us want to think about things like fires or home invasions. But as homeowners, we have a responsibility to anticipate these things. This is why we need to think about home security systems. 
To best protect our families, our investment, and our businesses, a home security system simply makes sense. By preparing for eventualities, we are doing what is necessary to prevent serious problems. 
Modern home security systems have progressed beyond the simple alarm system. A modern home security system from Circle Security Solutions will allow you to set up your system precisely for your needs. You will be able to monitor and control the system remotely. And you can have the peace of mind of a central monitoring system. As the old saying goes, an ounce of prevention is worth a pound of cure. The best prevention for your home or business is a solid and professional home security system.